07-02-2009, 09:47 PM
Yorum: #1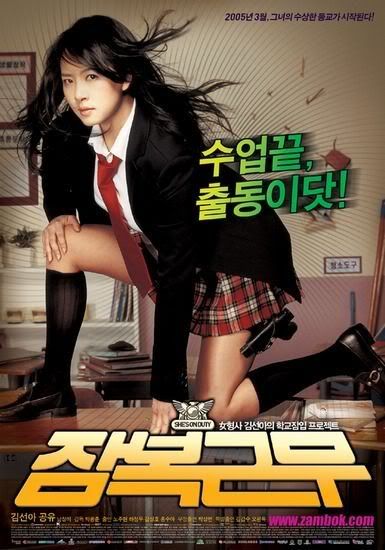 Trailer
Code:
http://youtube.com/watch?v=NQhaIVbyZAI
Movie Info:
Code:
Genre: Comedy/Romance/Action
Runtime:111 min
Language: Korea (English Sub included)
Summary:
After bungling an important sting operation involving a Yakuza-run sex slavery ring, Detective Chun Jae In (Kim Seon A, from S Diary and Wet Dreams) must make amends by going deep undercover as a high school student! Her mission is to make friends with Seung Hee (Nam Sang Mi, from (Too Beautiful to Lie), the daughter of Cha Young Jae (Kim Kap Soo), a reformed crook who holds the key to prosecuting a notorious mob boss, but who is impossible to track down.
With constant exams, school bullies, and a budding crush on a handsome, but mysterious high schooler (Gong Yoo, from My Tutor Friend), to deal with, can Jae-In find Mr. Cha before the mob does? Kim Seon A shines as Jae-In, giving a performance that has earned raves from nostalgic audiences longing to relive the "good ol' days" of high school. While the film seems like a light farce, things turn serious towards story's end as Jae-In takes charge to prove her worth as a police officer.
Links:
Code:
Kod:

http://rapidshare.com/files/71454671/Shes.On.Duty.part1.rar
http://rapidshare.com/files/71464206/Shes.On.Duty.part2.rar
http://rapidshare.com/files/71475161/Shes.On.Duty.part3.rar
http://rapidshare.com/files/71500994/Shes.On.Duty.part4.rar
http://rapidshare.com/files/71514790/Shes.On.Duty.part5.rar
http://rapidshare.com/files/71526308/Shes.On.Duty.part6.rar
http://rapidshare.com/files/71538941/Shes.On.Duty.part7.rar
http://rapidshare.com/files/71581380/Shes.On.Duty.part8.rar
08-18-2009, 09:11 PM
Yorum: #2
allah sahibine bağışlasın ablamızı
03-17-2013, 09:17 AM
Yorum: #3
bi izleymdim gitti
12-19-2018, 05:47 PM
Yorum: #4
mega linki ekleyebilir misiniz hiç biri çalışmıyor
---
Yararlı linkler:
KT Kuralları
,
Kore
,
Kore Dizileri
,
izle
Site içerik sağlayıcı: Koreanturk.com (Official)