The Third Charm OST Full Download

09-29-2018, 08:43 PM
Yorum: #1
THE THİRD CHARM DİZİSİNE AİT TÜM OSTLAR BU BAŞLIK ALTINDA PAYLAŞILACAKTIR
Stella Jang-The Third Charm OST Part.1
Stella Jang-The Third Charm OST Part.1

Album Artist: Stella Jang
Album Type: Digital Single
Release Date: 2018.09.28
Genre: OST, Dance

Tracklist:
01. I Only See You
10-06-2018, 09:12 PM
Yorum: #2
Jo Sung Mo, CJM-The Third Charm OST Part.2
Jo Sung Mo, CJM-The Third Charm OST Part.2

Album Artist: Jo Sung Mo, CJM
Album Type: Digital Single
Release Date: 2018.10.05
Genre: OST

Tracklist:
01. Perhaps We-Jo Sung Mo
02. You Are Attractive-CJM
ŞARKIYI DİNLEMEK İÇİN
Perhaps We-Jo Sung Mo


You Are Attractive-CJM


10-13-2018, 09:09 PM
Yorum: #3
YONGZOO, Boramiyu-The Third Charm OST Part.3
YONGZOO, Boramiyu-The Third Charm OST Part.3

Album Artist: YONGZOO, Boramiyu
Album Type: Digital Single
Release Date: 2018.10.12
Genre: OST, Ballad

Tracklist:
01. Think About You-YONG ZOO
02. Like We Used To-Boramiyu
ŞARKIYI DİNLEMEK İÇİN
Think About You-YONG ZOO


Like We Used To-Boramiyu


10-25-2018, 09:01 PM
Yorum: #4
YDG, Manuka(aka. Esther Kim)-The Third Charm OST Part.4
YDG, Manuka (aka. Esther Kim)-The Third Charm OST Part.4

Album Artist: YDG, Manuka (aka. Esther Kim)
Album Type: Digital Single
Release Date: 2018.10.19
Genre: OST, R&B / Soul

Tracklist:
01. I Don't Think So
10-29-2018, 05:13 AM
Yorum: #5
One Star -The Third Charm OST Part.5
One Star-The Third Charm OST Part.5

Album Artist: One Star
Album Type: Digital Single
Release Date: 2018.10.26
Genre: OST, Ballad

Tracklist:
01. Hee Jae
11-06-2018, 10:23 PM
Yorum: #6
SOYOU(SİSTAR), Mad Clown-The Third Charm OST Part.6
SOYOU(SİSTAR), Mad Clown-The Third Charm OST Part.6

Album Artist: SOYOU(SİSTAR), Mad Clown
Album Type: Digital Single
Release Date: 2018.11.03
Genre: OST

Tracklist:
01. When It Rains
11-09-2018, 08:50 PM
Yorum: #7
Kim Yeon Ji-The Third Charm OST Part.7
Kim Yeon Ji-The Third Charm OST Part.7

Album Artist: Kim Yeon Ji
Album Type: Digital Single
Release Date: 2018.11.09
Genre: OST, Ballad

Tracklist:
01. With The Season
11-19-2018, 08:59 PM
Yorum: #8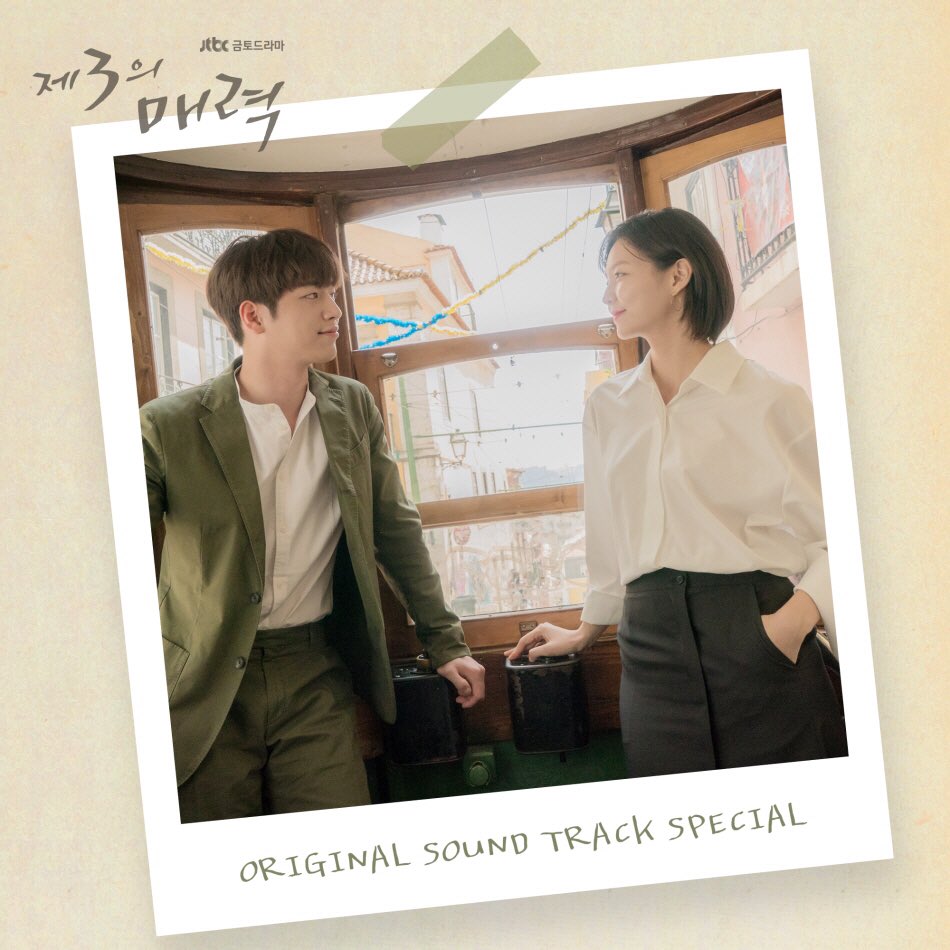 Various Artists-The Third Charm Special OST
Various Artists-The Third Charm Special OST

Album Artist: Various Artists
Album Type: Full Leight
Release Date: 2018.11.16
Genre: OST

Tracklist:


CD 1


01. I Only See You-Stella Jang
02. Perhaps We-Jo Sung Mo
03. You Are Attractive-CJM
04. Think About You-YONGZOO
05. Like We Used To-Boramiyu
06. I Don't Think So-YDG, Manuka (aka. Esther Kim)
07. Hee Jae-Im Han Byul
08. When It Rains–Soyou(Sistar)&Mad Clown
09. With The Season-Kim Yeon Ji



CD2


01. Starting Today
02. Our First Day
03. Wherever I Look
04. Among The Many People
05. I Can Only See You
06. Is love beginning?
07. You Are Full Of My Heart
08. Sometimes When I'm Sick
09. Sometimes When It's Fun
10. You Are Warm And I Am Warm
11. Our Memories
12. The Memory Is Full Of Me
13. You Always Hold Me
14. You Always Cover Me
15. I Was Always In Your Seat
16. Fill You In The Seasons
17. Remembering You
18. Twenty-Seven Summer
19. We were A Lot Different
20. I Loved Each Other A Lot
21. I Love You I Love You I Love You
22. Giftedness, Giftedness.
23. Jun-Young Jun Young
24. Do You Eat Spicy Now?
---
Yararlı linkler:
KT Kuralları
,
Kore
,
Kore Dizileri
,
izle
Site içerik sağlayıcı: Koreanturk.com (Official)